A vitamin C serum recipe can be very simple or quite complex as you will soon see. Whatever recipe you choose to use, one thing is certain. The benefits and cost savings when you create your own vitamin C serum will make for a very happy day.
Vitamin C serums can be expensive coming in at well over $100 for a small jar.  With a good vitamin C serum recipe you can create your own serum for a few dollars.
So, why should you be interested in Vitamin C serum anyway? Other than it helps keep you young, tones your skin, reduces wrinkles and helps protect you from the ravages of sun exposure, I can't think of a single reason to get excited about it.
The simplest vitamin C serum recipe
I know of one gal who uses L-ascorbic acid (natural vitamin C) by simply dissolving a ½ gram vitamin C powder into 5 ml water and applying to her skin every night at bedtime. She mixes a fresh batch every night to assure freshness. (L-ascorbic acid deteriorates very fast when exposed to air.) *
*See Notes below
The second simplest vitamin C serum recipe
This recipe is exactly like the first recipe with the exception that 3 drops of vitamin E oil are added to the formula. Vitamin E behaves synergistically with vitamin C by increasing the antioxidant properties of the vitamin E.*
*See Notes below
The third simplest vitamin C serum recipe
Ingredients:
1 gram L-ascorbic acid
5 ml distilled water
5 ml glycerin
Instructions:
Dissolve ascorbic acid in water. When completely dissolved, add glycerin and mix well.
*See notes below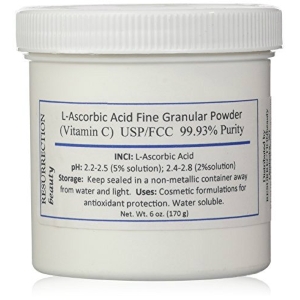 L-Ascorbic Acid Powder (Vitamin C), 6 oz. Jar. For Use in Serums and Cosmetic Formulations

[1]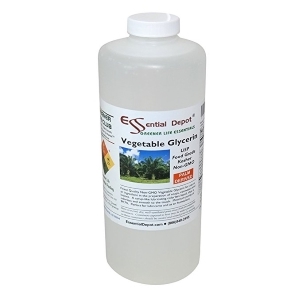 Glycerin Vegetable Kosher USP – 1 Quart (43 oz.)

[2]
The fourth simplest vitamin C serum recipe – 15% vitamin C serum
I can't tell a lie, I found this one online courtesy of Kelly. I haven't tried it yet, but I intend to do so very soon. Kelly says this is the one she uses and loves it. When I read the ingredients, I could understand why. I am presenting it to you exactly as she posted it with a few notations I've added for clarification. These are italicized.
1 tsp L-Ascorbic Acid
3 tsps Distilled Water
1 tsp SKB (Sea Kelp Bioferment) – moisturizer
1tsp Remergent DNA cream – This cream is supposed to repair DNA – (You can substitute Tetrahexyldecyl Ascorbate (THDA). THDA is a very stable vitamin C ester. THDA is soluble in oil and helps aid in skin penetration. It's supposed to have antioxidant properties and help prevent and repair UV damage to the skin.
½ vial ferulic acid – Antioxidant, touted by some as a skin toner.
½ capsule of methylsulfonylmethane (MSM) supplement (be sure it's one with NO fillers!) – Assists in the transport of nutrients into the skin.
6 drops vitamin E oil
Dissolve the C in the water stirring frequently till no crystal remains (10 minutes or so), to that now add the powders; (MSM + Ferulic) and stir till dissolved. In a separate little glass stir together the remaining ingredients; (SKB, Vit E, + DNA cream) + stir till mixed well. Now add it all together stirring for 3 or 4 minutes, and transfer it into a dark blue or amber 1oz dropper bottle. (Two glass shot glasses are perfect for mixing up this serum.)
*Notes:
Though the top two recipes work well for some people, you might find these recipes irritating to your skin. Skin irritation is a very common problem when vitamin C is applied directly to the skin.
If you are going to use the simplest or the second simplest vitamin C serum recipe, I recommend you buy your L-ascorbic acid in packets. Powdered ascorbic acid should be white. If the powdered form is dark yellow or brown, it should not be used. When mixed with water, vitamin C should be clear. If it has turned color, throw it out.
We recommend that you purchase pH strips and test the acidity of your serum. It should be no higher than 3.5. It is also advisable to stay above 2 or your skin may complain a lot. A 5% solution in distilled water will have a pH between 2.2 and 2.5. (That's 5 parts L-ascorbic acid in 100 parts water. Or 1 ½ teaspoons per 8 1/3 Tbsp)
You can mix your serum in small batches(enough to last a week or two). Store in dark colored jars in the refrigerator.
Typically the vitamin C serum is applied at night. Some use a lower pH serum at night and a gentler and higher pH serum in the morning. We recommend once a day at bedtime. Increase the pH in your vitamin C serum recipe if your serum irritates your skin.
I hope you try each vitamin C recipe and report back here with the results. Be sure and let us know what you liked and didn't like. We always love to hear from our members and guests. So, until next time—
Now go have fun and relax.