Chocolate Cherry Valentine Bath Candy Recipe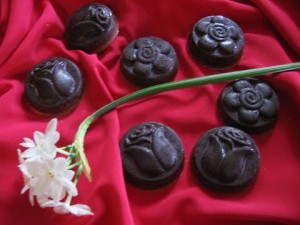 This is a quick and easy recipe to make a Valentine bath candy. Think about this, no calories, just an awesome luxurious bath that will make your skin sing with happiness.
Valentine Chocolate cherry bath candy
4 oz cocoa butter

2 oz Shea butter

2 tbls cocoa powder

2 tsp cherry fragrance (oil soluble)
Melt butters in double boiler. Add fragrance and mix. Add cocoa powder. Mix until all powder is well blended. Pour into candy molds and place in refrigerator for 30 plus minutes or until firm.
Store at room temperature.
Exchange flavors to create other interesting fragrances. Here are some ideas.
Banana split
7/8 tsp banana fragrance oil

7/8 tsp vanilla fragrance oil

7/8 tsp strawberry fragrance oil
Chocolate orange
30 – 45 drops orange essential oil
Chocolate raspberry
2 tsp raspberry fragrance oil
These bath candies melt quickly at body temperature so for an extra special Valentine's Day, they work great as a body bar. Caress your significant other with this "candy" and make this Valentines Day one s/he will never forget.
If you have other ideas, please share them in the comments section below.
Now go have fun and relax.