Fabulous Outdoor Summer Spa Party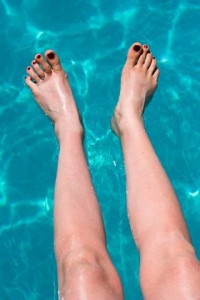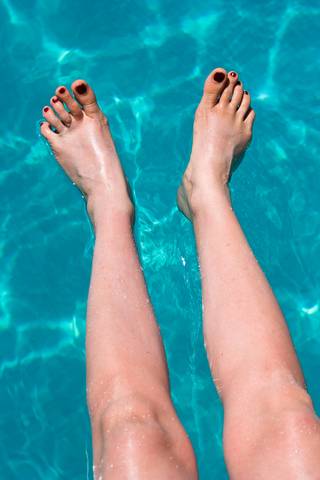 It's a lot of fun to have outdoor parties of any kind when the weather turns hot, but an outdoor spa party is unbelievably fun. Your party needn't be a big gala affair, but rather an intimate and cooling experience for you and your friends. What follows are easy to do ideas that will make for a terrific time for everyone at your summer spa party, including you.
The Spa
Prior to your guests arriving, you can prepare refreshments and any spa treatments you will offer. Because I want you to have a relaxed wonderful time as well as your guests, I've kept things really simple. You don't need to spend gobs of cash or slave for hours to have fun with friends. They come to your home to see you, not watch you work.
Just before your friends arrive, put on some music and add flowers to vases on outside tables. The music should be relaxing at a spa party, so no heavy metal, hip hop or other stimulating tunes. It should also be in the background so you don't have to yell at each other to be heard. We've provided some ideas for the type of music on the post "How Does Music Affect the Brain." I think you'll find it an interesting read. When I did the research for the post, I found the information fascinating.
When your friends first arrive have each wash her face. Be sure to tell your friends in advance to bring their own personal cleansers. This prevents someone using a product that may not be best for her skin type. You provide towels.
With all faces squeaky clean, have them apply a cool cucumber mask that you have prepared in advance. You can find my favorite recipe on the post "Make Your Own Cucumber Peel Off Mask."
I think a foot bath is an absolute must on a hot summer day because there is little more refreshing than soaking your feet in cool water. You just add a little pizzazz to the water by adding a few ingredients that will benefit their feet. You'll find a great foot bath recipe in the post: The Perfect Foot Bath. You can customize this recipe to the number of friends coming to your party. If you don't have individual foot basins for each guest, an inexpensive ($15 – $20) toy swimming pool works great for up to six friends.
Other fairly simple options you may choose instead of or in addition to the ones I suggest could include: manicure, pedicure, foot massage and hand massage. The pedicure and manicure will require extra tools and the massages will require someone to give basic instructions.
The supplies you will need for this spa party are:
Outdoor table(s) and chair(s) – You need room for everyone to sit. Card tables work fine if you don't happen to own a table large enough to seat everyone.
Soft face towels (super sized washcloths also work)
The Refreshments
The food
It's hot outside, so your refreshments are best when cool and light. The simplest refreshments might include nice sweet watermelon sliced in a bowl for easy serving. Salads are also good options. Below you'll find one of my favorite salad recipes. It's always a big hit. Other ideas include:
The beverages
Iced green tea is delicious and good for everyone
Citrus juices are among the most refreshing summer beverages
Tall glass of ice water – good to have this as an alternative for those who choose
Wine coolers/mimosas – Check out: Mimosa Recipes 101. Just remember that alcoholic beverages are not the best choice in hot weather because alcohol is dehydrating.
My favorite salad recipe – I found this recipe on recipezaar it is recipe #66596. This recipe serves 6 easily.
Dressing
¾ cup olive oil (I have used both the extra light and dark. Both work well.)

3 Tbsp fresh lemon juice

3 Tsp dried oregano

3 Tsp fresh minced garlic

1 Tsp dried basil

2 Tbsp red wine vinegar

½ Tsp salt

1 Tsp sugar

½ Tsp fresh ground black pepper
You can blend the dressing ingredients in a blender. However, I usually whip the dressing until smooth with my wire whisk. It takes no time at all. I then allow the dressing to steep, usually overnight. The recipe says a minimum of two hours.
The Salad
1 large or two small romaine lettuce chopped

3 Roma tomatoes (The recipe calls for plum with Roma tomatoes as a second choice.)

1 English cucumber peeled and seeded. (I peel it, but leave the seeds as they're small and soft and don't detract from the salad.)

1 red onion cut in slices – I use a small red onion to avoid it overpowering the salad.

1 green pepper seeded and cut in rings or slices (optional). I don't use the green pepper because many people don't care for them or can't tolerate them.

½ pound crumbled feta cheese

1 cup kalamata olives
When ready to serve, toss the dressing with the salad and then be prepared for your friends to ask for your recipe. It's soooo yummy.
This salad and the other suggestions are designed to help you on your way to having a wonderful summer spa party. What you serve and the spa activities are limited by your imagination, space and finances?
Now go have fun and relax.
Related articles:
How to Have a Spa Party with Budding Goddesses
How to Have the Best Home Spa Party Ever
How to Have an Awesome Spa Party At Home