Grape seed oil is wonderful for your skin and for cooking. However, there's a great deal of misinformation out there in cyber-land. This post is to give you just the facts.
What is grape seed oil?
Grape seed oil is derived from the seeds of grapes, usually wine grapes.
How is grape seed oil made?
Grape seed oil is made in one of two ways:
Expeller pressed – When oils is extracted using this method, the grapes are heat pressed to release the oil. There are no chemicals used in this process and it produces the best grape seed oil. Note: There are no cold pressed grape seed oils despite what you read. Due to the small amount of oil in the seeds, a hot expeller technique is used.
Solvent extracted – Hexane is used to extract the oil from the seed. Many oils on the market are produced using this method as it is less expensive. We recommend our goddesses avoid solvent extracted products as there's too much chance of toxic residues.
The confusion surrounding grape seed oil
You will read that there is a high concentration of vitamins A, C and E in grape seed oil. This is untrue. The only vitamin in grape seed oil is vitamin E. In fairness, the vendors making such statements may be confusing grape seed oil with grape seed extract. Grape seed extract does contain vitamins A, C and E. It also contains the powerful antioxidant Proanthocyanidin. Proanthocyanidin is present in grape seed oil, but in such a small amount that is irrelevant.
The difference between grape seed extract and grape seed oil is in the processing. Grape seed extract may be made by the steam distillation of grape seeds. You can even make it at home by grinding dried seeds and grape skins. Grape seed oil is removed from the extract as part of the process.
Active ingredients in grape seed oil?
According to a 1985 study "Characteristics and composition of melon and grape seed oils and cakes," grape seeds are composed of the following fatty acids:
Linoleic acid (72%) – this is an Omega 6 fatty acid and thus is one reason I do not cook with this oil. Diets, particularly in the West, are already weighted too heavily in favor of Omega 6 rich fats relative to Omega 3. However, topically, linoleic acid is wonderful for your skin.
Oleic acid (16%) – Oleic acid in foods such as olive oil and grape seed oil may lower blood pressure.
Palmitic acid (7%) – This is a saturated fat found in both animals and plants and considered unhealthy if consumed in excess.
Stearic acid (4%) – This is also a saturated fat found in both animals and plants, but considered neutral in that it doesn't appear to increase LDL (The bad cholesterol).
Alpha–linolenic acid and Palmitoleic acid (less than 1%)
Benefits of grape seed oil?
The primary benefits of grape seed oil are when used topically for the skin. In the opinion of this writer/researcher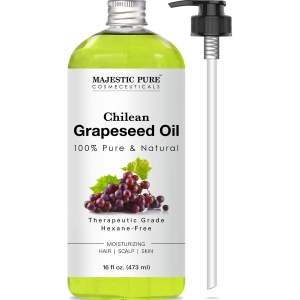 Grapeseed Oil from Majestic Pure, 100% Pure & Natural Massage and Carrier oil, 16 fl oz

it is not in the best interest of our goddesses to use this oil as their primary cooking or salad oil due to its extremely high linoleic acid content (Omega 6 fatty acid). Omega 3 fatty acids are what most of us lack in our diets. That said, it's only fair to report that the phytosterols (steroid compounds similar to cholesterol) in grape seed oil may help lower cholesterol. Since the phytosterol concentration is extremely low in grape seed oil, my opinion on using it as the primary oil for cooking or other food uses still stands.
However, grape seed oil is fine for use in skin care products. The oil is beneficial to the skin in the following ways:
Anti-inflammatory
Keeps skin supple by retaining moisture
Is non-comedogenic(does not block pores) an is useful in the treatment of acne
Absorbs readily into the skin
Conclusion
Lori uses grape seed oil in several of her skin care formulations. We test all recipes on ourselves and the rest of the family first before we recommend using them. What we here at SpaFromScratch like about grape seed oil is that it absorbs readily into our skin and doesn't leave a greasy feeling.
Now go have fun and relax.
Related articles:
Jojoba Oil – What You Need To Know

Camellia Oil or Olive Oil – Which is best?