These are fun and easy Halloween spa recipes to make yourself or with your kids. Make them for a Halloween spa party or just for your own bath time retreat. Let these bath gels release your bath oils and fragrances for a perfect fun fall bath experience.
Pumpkin Pie Spice Bath Gels
Ingredients:
5 tbsp carrier oil like jojoba or sweet almond
1 tsp lecithin
½ tsp nutmeg essential oil
½ tsp ginger essential oil
1 tsp cinnamon essential oil
3 tbsp gelatin
1 cup water
Materials:
Pumpkin molds
Stick blender
Instructions:
Mix gelatin into water. Let stand while blending the carrier oil with the lecithin and essential oils in a bowl. I use a stick blender. Mix gelatin with a spoon in separate bowl or mug and place in microwave for 20 sec intervals. The goal here is to bring the gelatin mixture to a boil without having it boil over. The gelatin mixture will be thick to start but will thin as it heats.
Once the gelatin is ready, mix 12 drops of color safe colorant into the gelatin solution. I used food coloring without any problems. Turn stick blender on in carrier oil mixture and slowly add the gelatin mixture. Once blended, pour mixture into molds. Cover molds with cellophane wrap to keep a thick skin from forming on the top.
Let cool for a couple of hours, or until firm and you're done.
I store these in airtight containers or bags in the refrigerator. When you are ready to use them take two or three depending on the size of mold you have used and throw them under the hot water while filling your bathtub. They will dissolve easily leaving you with wonderfully scented water complete with the beneficial carrier oils.
Glow-in-the-dark Ghostly Halloween Bath Gels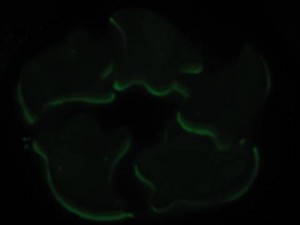 These bath gels not only add beneficial oils to your bath, but they will make your bath water glow in the dark.
Instructions:
Follow the instructions above, but add 1 tbsp of skin safe glow-in-the-dark powder to the carrier oil mixture. Leave the colorant out, and use 2 tsp of lemon essential oil to replace the essential oils above.
When these gels are dissolved in water, the water glows in the dark. How fun is that!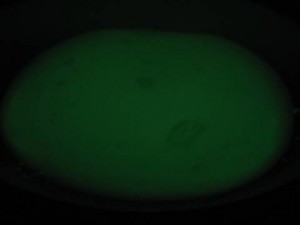 Note: I could not readily find the ghost molds I was looking for, so I used a 9 x 9 inch Teflon baking pan and used a ghost shaped cookie cutter after the gelatin had hardened.
Bath Gels have endless possibilities as you can use any shaped mold, colorant, carrier oil and essential oils or fragrance oils.
NOTE: If anyone has any suggestions, please let us know.
Now go have fun and relax.