Homemade Linen Spray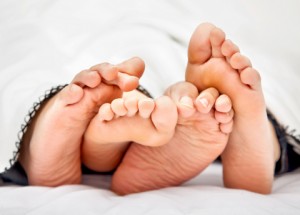 Linen spray is absolutely heavenly. Depending on the ingredients of the spray, it can double as a room spray and/or body spray. What we're going to talk about today is homemade linen spray, also called linen water, which is to be used on linens, clothing or as a room spray.
Homemade linen spray is really simple to make for your own use or to give as a gift. It also is a great addition to spa gift baskets. Linen spray consists of water, fragrance and alcohol. The alcohol increases the intensity of the scent and helps keep the spray fresh. The preferred alcohol is Vodka because it has no additives however, some use rubbing alcohol. Other folks recommend against using rubbing alcohol due to its toxicity.
If you plan on using your homemade linen spray on clothing be forewarned. Modern synthetic fabrics tend to spot, particularly with oil. Personally, I wouldn't use my linen spray on my clothing unless it was cotton and then only if it was something I planned on ironing. I would spray the fabric lightly and iron. The heat from the iron infuses the scent into the fabric giving the fragrance more staying power.
Linen spray is often used to create a relaxing scent, but it is also used to help create a sensual experience for those special bedroom moments. Don't think it helps? Well, think again. A big chunk what our bodies do happens between our ears. Our bodies respond to the signals our brain sends them whether that is to relax or to prepare for sex. The brain relies on our thoughts and outside stimulus from the five senses to send the appropriate orders to the rest of our body. The connections of brain to body is a fascinating subject on its own, but suffice it to say here that the appropriate scent can be used to send the desired information to the brain.
Here's what you need to make your own homemade linen spray:
1 – 4 oz spray bottle (fine mist) Use a new bottle they're cheap
30 – 40 drops essential oil or blend of oils
1.5 ounces

distilled

water and 1.5 ounces 100 proof vodka (You can substitute 3 ounces of distilled water, but adding the alcohol is desirable.)
Note: If you are choosing oils other than those used here, take care to use lightly colored oils to avoid staining your linens. Also, avoid spraying your linen mist on furniture, your skin and/or into food or beverages.
A relaxing homemade linen spray using an essential oil blend
You can opt to use a single oil instead of a blend. It's a matter of personal preference.
10 drops Lavender essential oil
10 drops Clary Sage
10 drops Bergamot
Or
20 drops Roman Chamomile
15 drops Bergamot
A Sensual homemade linen spray using an essential oil blend
You should be careful when using these blends to be sure they are desirable to both you and your partner. Not all fragrances have the desired effect on everyone. Wouldn't the world be a boring place if they did? Add the appropriate ratio of drops to 1.5 ounces of water first and see how well you and your partner like it. Add your oils one at a time, that way you will be able to identify which, if any oil is undesirable. You'll know if it's wrong. If it works, continue adding the ingredients to make up your linen spray. If it doesn't, try another blend or eliminate the undesirable oil. If the oils produce the desirable fragrance, but it is too strong, you can dilute it. Do not add undiluted essential oils to your skin.
To dilute, add 1.5 ounces of water to 1.5 ounces of vodka into an 8 ounce bottle. Add the original mix and shake. Give it the sniff test. If this works, pour the new mix into your spray bottle and your ready. The balance can be pored into a second spray bottle or stored tightly covered until you're ready to use it.
15 drops Sandalwood
15 drops Bergamot
2 drops Rose
2 drops Jasmine
Or
10 drops Sandalwood
10 drops Bergamot
3 drops Ginger
3 drops Lime
2 drops Jasmine
2 drops Ylang Ylang
Add the water and vodka to your spray bottle (Leave that extra space at the top; you will need it since these formulas don't use a dispersant.) Add oils. Shake bottle and spray. Allow to dry when you are spraying between layers of linens.
Now go have fun and relax.
Related articles: