"To come across as younger than they are: Women buy creams that promise to slow aging; men buy fast cars." 
— Mokokoma Mokhonoana
You're not sure when it happened, but one morning you look in the mirror and there they are. Wrinkles. You feel sad. "I'm getting old," you think. "I've got to do something about this." But you get busy and heck it's only a few tiny wrinkles, nothing much to worry about you think.
As time marches on, you start to notice something else. It might be a crepey look on your arms, legs or on your chest. Wearing that sundress or pair of shorts you love is out of the question. You start to feel like an old lady.
In a panic, you scour the web for the perfect anti-wrinkle cream or serum. There are a million companies selling these products. You're confused. You don't know which one to buy because not only are many of the products very expensive, you don't know if they will work. Where do you even start?
First, let's first take a hard look at what's causing the wrinkles. That's the easy part. Then we'll see what we can do to make the wrinkles either disappear or at least be reduced.
What causes wrinkles?
Your skin is a living organ. As you age, your skin cells dehydrate and the production of collagen decreases. That's the perfect menu for thinning skin and wrinkles.
Both internal and external elements are leading you down the wrinkle path. What you eat and drink and your stress level are the internal elements. There is more than one external factor. However, ultraviolet radiation from the sun is the most common.
The major internal causes of wrinkles:
Over consumption of sugar
Hydrogenated fats
Smoking
Alcohol (excessive consumption)
Stress
Not enough sleep
Not enough exercise
The major external causes of wrinkles:
Sun (the biggest)
Air pollution
Wind
Repairing damaged skin to eliminate or reduce wrinkles
To win the wrinkle/crepey skin war is a two-step process. If you're serious about keeping wrinkles at bay, attack the problem on all fronts.
The best repairs:
Internal:
Eat a healthy diet
Drink plenty of water
Move your body. The cells of your body produce byproducts (think of it as your cells' bathroom habits). Lymph is your cell's sewer system (like when you flush a toilet). Lymphatic fluid washes away the waste that your cells produce. However, the only thing that moves lymph is body motion. To help all the cells in your body, including your skin cells, stay healthy, you must move. Walking works great.
Studies indicate gelatin can increase collagen production. It's an old solution that works well for skin, hair, and nails.
Collagen hydrolysate increases skin elasticity and statistically significant increases in collagen. We like Great Lakes Gelatin Collagen Hydrolysate Beef. (1)
External:
Wear sunscreen
Use a moisturizer appropriate for your skin type
Apply an effective anti-wrinkle cream, lotion, or serum. This is where things get sticky. So many products. So many claims. So many prices. What's a girl to do?
According to the scientific studies I found, the list below includes the most effective products in reducing wrinkles and rejuvenating skin cells. It will usually take several weeks for you to see a significant difference. Be patient. Also, not all of these products will work well for everyone. What that means is you may well have to do a little experimenting.
**Note: In one study, you will read the following about Nano-hyaluronic acid:  Because the molecules are small, they can penetrate the skin. They decrease the depth of wrinkles up to 40%, increases skin hydration up to 96%, and increase skin firmness and elasticity up to 96% after 8 weeks. Though this sounds awesome, there are compelling arguments against using this product on your skin. Click here to read more detailed information on why using Nano-hyaluronic acid is a bad idea.
My hope is that I've helped remove the confusion out of choosing a product that's right for you.
Remember to be patient, wrinkles can be stubborn critters. They may even hang around no matter what you do. The important thing is to avoid stressing over your wrinkles. Stress makes wrinkles worse.
The most important thing to do is take loving care of your body from now on. If you do, you will be radiant and beautiful with or without a few wrinkles.
Now go have fun and relax.
Other recommended products: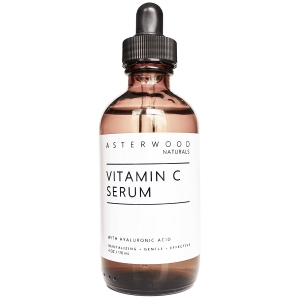 Vitamin C Serum 4 oz with Organic Hyaluronic Acid – Lighten Sun Spots, Anti Aging, Anti Wrinkle – Light and Oxygen Stable MAP Vitamin C – ASTERWOOD NATURALS – Classic Formula Bottle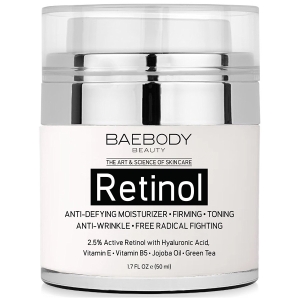 Baebody Retinol Moisturizer Cream for Face and Eye Area – With 2.5% Active Retinol, Hyaluronic Acid, Vitamin E. Anti Aging Formula Reduces Wrinkles, Fine Lines. Best Day and Night Cream 1.7 Fl. Oz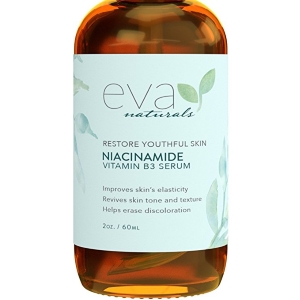 Vitamin B3 5% Niacinamide Serum by Eva Naturals (2 oz) – Niacinamide Benefits Skin with Incredible Anti-Aging and Reduces Appearance of Wrinkles, Acne and Discoloration – With Hyaluronic Acid and Aloe

References:
You might also enjoy these related posts: