The other day I was downtown shopping and spotted those little Valentine candies that have little love notes written on them. That's when inspiration struck. Why not make Valentine's Day bath bomb hearts. What follow are the results of that inspiration.
Ingredients:
1 cup baking soda

1 cup citric acid

1/2 cup corn or tapioca starch (I prefer tapioca starch because it feels softer)

5 tbsp light weight carrier oil like Jojoba, sweet almond or grape seed

2 tsp essential/fragrance oil (adjust as needed)

Soap safe colorant or food coloring

Heart shaped molds
Instructions:
Sift together dry ingredients (I used my food processor). Add carrier oil and mix by hand (I just added the oil to my food processor on pulse). When the oil and dry ingredients are well blended add the essential oil and several drops of soap safe colorant or food coloring if desired. Continue to mix until all ingredients are well blended. Squeeze a handful of the mixture in your hand. It should have the consistency of wet sand and stick together. Add a tablespoon more of carrier oil if the mixture is not sticking together and mix again.
Note: I highly recommend using a food processor if you have one. The mixture comes out perfect every time. 🙂
Once you have achieved the correct consistency it's time to either pack the molds or if you are going to use more than one color, separate the mixture for the individual molds. The heart molds I was using required a heaping half cup. Since I was making a different color for each mold, I separated the mixture into ½ + cup portions and put each portion in a separate bowl. I then added a few drops of food coloring and ½ tsp essential oil to each portion and blended the mixture until all of the color was evenly distributed.
Pack one of the portions into a mold. Make sure the filled mold is fairly even. If you don't, the bomb will fall apart when it is removed from the mold and laid on a flat surface. Place mold pan on flat surface and tap the back of filled the mold. The bomb should fall out. Do this with each of your portions. If you try to do too many at once, some will tend to fall apart while removing them from the molds.
Note: If you mess up or the bomb falls apart, just put the mixture back into the mixing bowl, blend again and retry.
After you have finished let the bath bombs sit for at least 10 to 12 hours in a dry area.
Use smaller molds for heart shaped bath fizzies.
Color and fragrance ideas:
Blue heart: hyacinth, lilac, mint, blueberry, blackberry
Pink heart: rose, jasmine, carnation, cherry, strawberry
Yellow heart: ylang ylang, rose, jasmine, ginger, lemon, grapefruit
Green heart: mint, lime
Purple heart:  lavender, lilac, grape
Orange heart: orange blossom, orange, mandarin
Lori's mistakes: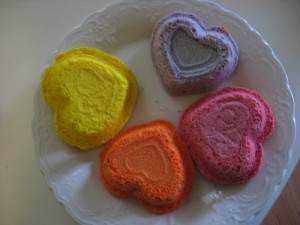 Didn't take bath bombs out of molds and added too much color. Ooops! (image above)
Forgot bombs were in the oven and turned oven on 350 degree preheat. Ooops!
Filled up more than one mold at a time. Then tried to get them out. Ooops! (had to repack 2 of the molds)
Played with bombs before they were completely dry. Ooops! (Broke one of the bombs)
There now you have it. This was my Valentine's Day bath bomb making experience complete with the good and bad. Over all I was pleased and would recommend this recipe.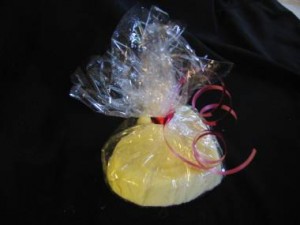 Now go have fun and relax.