Watch Lori Shrink an Introduction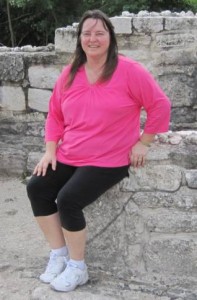 My name is Lori Eaton, fondly referred to as the SpaFromScratch geek. I am a 47 year-old wife and mother. In 2009, after five years, I graduated from the University of Washington with a degree in computer science. My goal was to use my skills to benefit humanity in some way. Now here I am working with my mom on this wonderful site. My mom is doing what she enjoys, writing, and I enjoy tweaking the website, building fun widgets and continuing to develop tools for all of our gals and guys to use.
I love what I do and am very happy. There is one problem though. I looked in the mirror recently and discovered, to my horror, that I have become the Stay Puft Marshmallow woman. I was shocked when I visited the doctor for a checkup and discovered that I was topping the scales at a hefty 240 pounds. OMG!!! Years of no exercise and unhealthy eating habits have left me weighing 110 pounds more than I should. After the initial shock of this had subsided, I decided it was time to do something about it. So I decided to create Lori's Corner; a place where I can let you all know what diet and fitness plan I intend using and how the plan is working for me. I welcome your input and maybe even some of you would like to join me on this journey. At a minimum, every Monday I will post a summary of my week's get fit activities; the good and the bad.
Next Monday I will let you all know what fitness plan I intend to follow.
See you then!